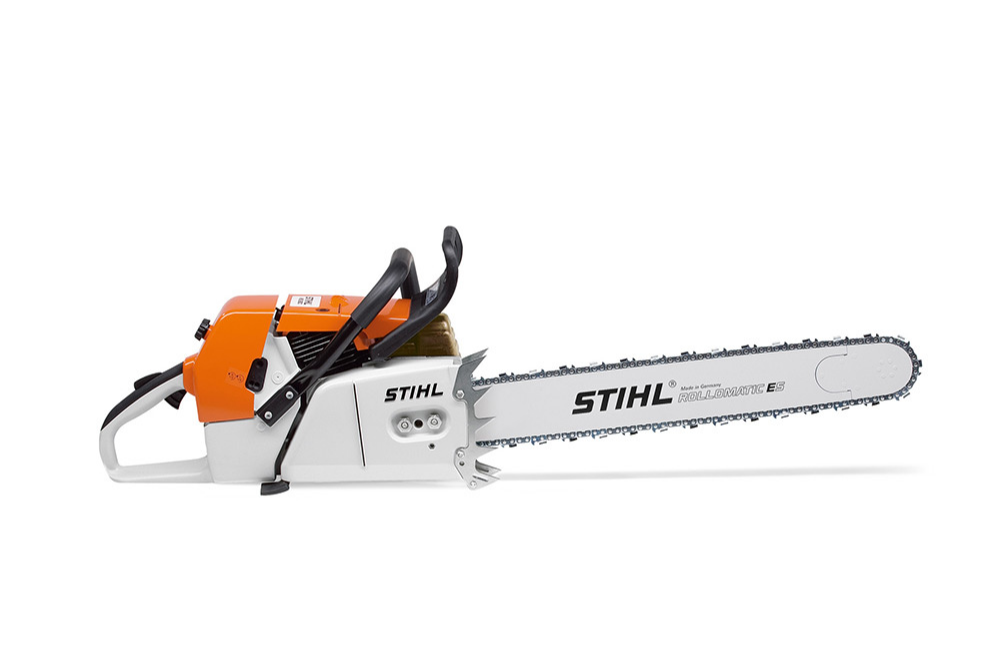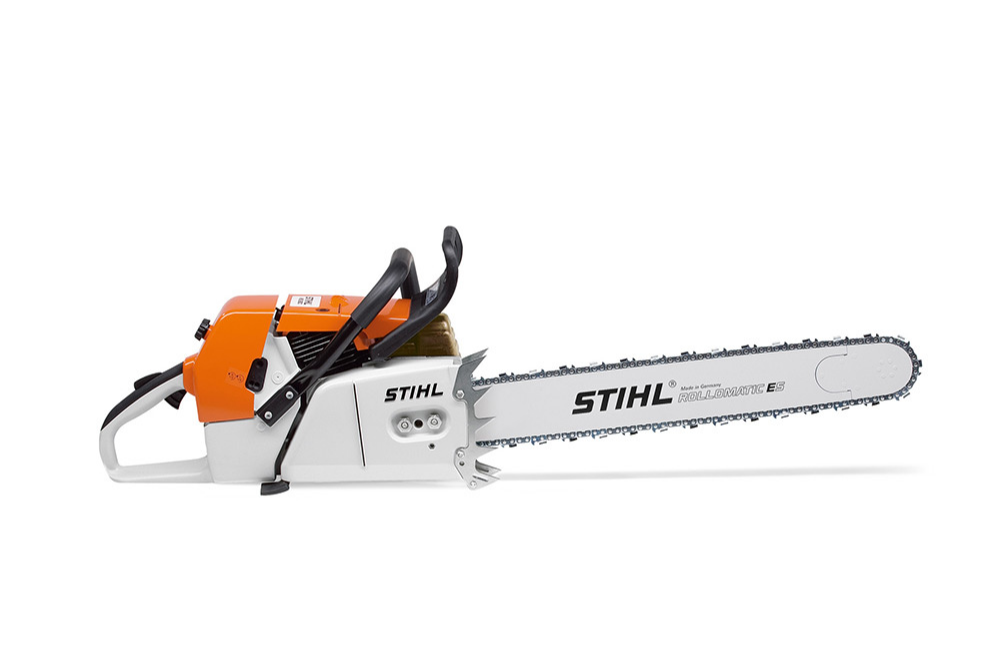 The most powerful series-produced chainsaw in the world. Decompression valve and STIHL ElastoStart ensure an effortless chainsaw start, HD2 filter guarantees a long filter life, tool-free fuel cap for safe and easy refueling.
Features
STIHL ElastoStart Due to compression pressure, jerky stresses occur when starting internal combustion engines. The damping element in the ElastoStart special starter grip alternately absorbs and releases force according to the compression pattern. The result is smooth, even starting.
HD2 filter This air filter keeps even the finest dust away from the engine, ensuring a particularly long service life. Thanks to its special material, the filter can easily be cleaned by washing, for example with STIHL Varioclean and warm water.
Controlled-delivery oil pump Different bar lengths, wood types and sawing techniques require different amounts of oil. The controlled-delivery oil pump allows the user to select just the right amount of oil for the job at hand.
Compensator This controller in the carburettor prevents the fuel-air mixture getting richer as the air filter becomes clogged. The correct quantity of fuel is delivered to the carburettor depending on the quantity of air passing through the air filter. This keeps the fuel/air ratio in the combustion mixture constant and hence also the engine power. The filter doesn't need to be cleaned until an appreciable drop in power occurs.
Decompression valve The decompression valve is part of the easy starting system. The valve should be pressed before starting to reduce the compression pressure when starting, as well as reducing the effort needed to pull the starter rope. The decompression valve is semi-automatic; it must be pressed manually before starting, but then closes automatically.
STIHL anti-vibration system Precisely calculated buffer zones minimise the transfer of engine and saw chain vibrations to the front and rear handles. The chainsaw therefore runs noticeably smoother. This allows the user to save their strength and work longer.
STIHL Ematic System Compared to conventional bars without Ematic, the STIHL Ematic system reduces the consumption of chain lubricant by up to 50 %, depending on the type of wood and the cutting attachment used. This system comprises a STIHL Ematic or Ematic S guide bar, a STIHL Oilomatic saw chain and a variable-flow or reduced-flow oil pump. As a result, virtually every drop of chain lubricant is delivered to exactly the right spot.
Single-lever master control All important functions such as start, choke, throttle and stop are operated via a single lever.
Side-mounted chain tensioning Side-mounted chain tensioning makes it easy to tension the chain safely.
Tool free fuel caps Special caps to open and close the tank cap quickly, easily and without tools.